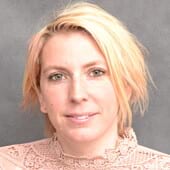 Annelie McCorkindale
Scientific Affairs Research Assistant – Global Marketing
 Please describe yourself in 20 words or less.
I´m a Biomedical technologist and I have a Bachelor's degree in Cell Biology.
Briefly describe your role and responsibilities at CellaVision.
As Scientific Affairs Research Assistant I have a varied responsibility. I am supporting the Scientific Affairs team with investigations into new innovative product ideas, perform laboratory investigations into new methodologies and assist our Scientific Software Developers in testing and developing prototype applications. I am also involved in keeping in touch with collaborating laboratories.
In your opinion, what makes CellaVision a great place to work?
CellaVision has a wonderful and welcoming atmosphere. Everyone is highly valued, and you can ask anyone for help or advice.  The work is fun and rewarding.