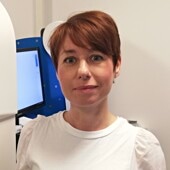 Veronika Jenei
Scientific and Medical Affairs Manager – Global Marketing
Please describe yourself in 20 words or less.
Bioengineer with a Ph.D. in pharmacology and 17 years experience in cell biology. My passion is air crash investigation and shipwrecks.   
Briefly describe your role and responsibility at CellaVision.
As Scientific and Medical Affairs Manager my responsibility is to come up with innovative product ideas, which incorporate new scientific developments and address unmet needs on the market. I am also involved in research projects using our technology both internally and externally and lending a helping hand wherever my expertise can be beneficial. 
In your opinion, what makes CellaVision a great place to work at?
CellaVision is a great team of competent, enthusiastic people who are also fun to be with. After my first interview, I knew this was my dream job because I just felt the positive and friendly atmosphere as soon as I passed the doorstep! CellaVision is a quickly growing company with great products but still small enough for it to feel like a family.