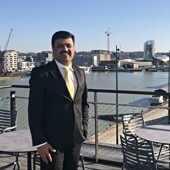 Parag Tavkar
Market Support Manager, India – Global Sales
Please describe yourself in 20 words or less.
Over 25 years' experience in the IVD industry ranging from Laboratory to Leadership roles. I love Haematology, am an avid traveler, super foodie, and sports enthusiast.
Briefly describe your role and responsibilities at CellaVision.
As a Market Support Manager, I support partners in pre- & post-sales activities in India and neighboring countries. It is a challenging and exciting role to introduce a new concept in this large region.
In your opinion, what makes CellaVision a great place to work?
CellaVision has an amazing work culture and even better people. Covering a huge territory, all alone, sometimes makes you feel a bit left out, but a supportive management and an encouraging team, across various continents, make it a fun place to work. Promoting Digital Cell Morphology, actively, for the first time, in this part of the world also gives me the challenge and satisfaction of being part of the changing times. It also allows me to continue my love for Haematology and travel across various parts of the country and abroad. Working from home gives you freedom, but at the same time instills discipline and a sense of responsibility.