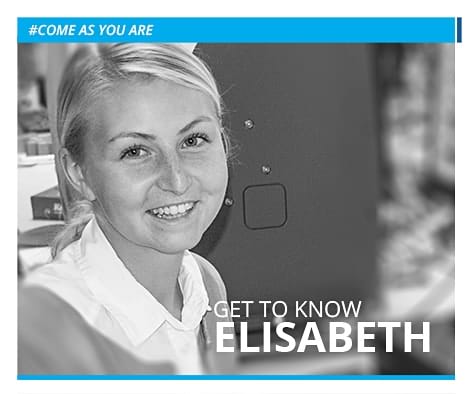 I sat down with Elisabeth, who joined CellaVision for a summer job a few weeks back. She got in contact with CellaVision through Athena's Mentorship Programme where she was mentored by Magnus Mathiasson. 

Elisabeth shares her thoughts about the programme and her first time at CellaVision. 
Who is Elisabeth and what are you studying? 
I am from Lund, live here now and I have just finished my fourth year at Biomedical Engineering, Faculty of Engineering, LTH. The education is to be considered as a connection between the medical profession and engineers and is a fusion of research groups such as Biomechanics, Biomedical Signal Processing, Lab-on-a-chip, Electrical measurement. I studied abroad in New Zealand in the fall of 2017 and that's when I applied for the mentor program through Athena.
The reason I signed up for the mentoring program was that I wanted to challenge myself and take another step toward my upcoming work life. I saw it as very positive to get a contact I could discuss ideas with and ask questions. Then I noticed that several of my classmates have formed good contacts with companies through the network.

Tell us a bit more about the Mentorship Programme Athena at the Faculty of Engineering
The vision of Athena's mentorship programme is to function as a platform for students to receive inspiration, mentoring and expand their network. Although their main target group is the female students at LTH everyone is welcome at our events and to be a part of Athena, regardless of gender. The engineering profession is male-dominated and therefore they want to strengthen the female network, with the final goal of making the engineering field more equal.

Last year, the mentorship programme provided 12 mentors and this year 44 where CellaVision is providing four in total (Magnus Mathiasson, Nils Öster, Kajsa Sundbeck and Kent Stråhlén).
Both the adepts and the mentors had a joint kick-off in January 2018 to get to know each other and in May they had a joint graduation.

How were you assigned a mentor from CellaVision?
When applying to the mentorship programme, we were asked to specify which areas we were interested in. I then chose medical technology as well as Design/IT. I then ranked them both and eventually I was granted Magnus Mathiasson from CellaVision to be my mentor.

What did you know about CellaVision before you got in contact with Magnus?

CellaVision was introduced quite early to us on the BME-programme because we study a course in Clinical Chemical Diagnostics. Then we got the opportunity to do a study visit at Lund University Hospital where we saw the instruments in the laboratory. Even at ARKAD (Career Fair), CellaVision has been present for the last couple of years. Unfortunately, there are not that many companies targeting our programme and CellaVision are thus extremely interesting. I have heard so many great things about CellaVision, the culture and your working climate.

What has the mentorship programme meant to you? What are the benefits? 
The Athena network itself has given me great insights into how many women actually study at LTH and how talented / committed everyone is. The project team has been extremely proficient at coordinating everything and the information has been clear from the very beginning. Inspiring lunch seminars that have given a lot of ideas for a future working life.

The mentorship has given me a more personal connection with my mentor as he has shared his background, and what made him do the choices in his own career. Many students experience a gap between study time and work. The perception is whether you will use your theoretical knowledge when starting your work career or not. At the same time, many young people feel a lot of pressure and expectation to find their dream job right after graduation. In this way, the mentorship has opened some doors for me and understanding that this is not the case.
What expectations are set on those who sign up for mentoring? 
As a mentor, you don't have to feel that you need to have answers to everything. Instead, you have discussions with your adept and give him or her tips. The adepts are the ones who are in control and together with them, you choose the level of the mentorship and where your focus will be. I really appreciated that I was able to send many questions to Magnus and that it led to a good and open dialogue. We created it together and it became as good as it could be.

Even though we have not had so many meetings, every opportunity has been extremely useful and rewarding. You really see the person behind the role!

Now you've landed a summer job here at CellaVision, congratulations! Was this part of your plan or the moment just arose?
It was actually a coincidence, but I have hoped that it might eventually lead to something longer. I applied for a job at CellaVision in February, but my mentor told me that it was not really a role that suited my education. At the same time, I was told that there could be an opportunity for summer jobs at Clinical Affairs, which then led me here to you! When I got the message from Karin Hannander, I was thrilled and so excited.

How has your first time been here at CellaVision? 
Most of all fun and CellaVision has a very nice atmosphere. I have started with a few of my assignments directly and there has been plenty of documentation to read. I'm really appreciating the common breakfasts and lunches immensely because I get, as a new employee, a chance to get to know new people and get great insight into the company's skills and personalities. People are very friendly and open.
I find the atmosphere very open where one can ask without interrupting. It's very easy to get into routines and to enjoy the variety of tasks. There are also many fun initiatives among colleagues such as joint exercise time and watching the World Cup together and so on.

How much knowledge do you think students at LTH have about CellaVision?

I definitely think that many students know CellaVision but they may not know or understand what one can actually work with here. Many students have seen CellaVision on the big fairs, which has lead to discussion or comments about the company. 
I think what favors CellaVision to other companies is that you have a product that helps lab staff in their everyday lives. You make it easier for the hospitals and are a good social benefit. To help people is important to many I think.

What are the most important factors that you take into account when you will eventually apply for a job?
Among the most important factors is feeling that you are constantly developing and doing different things all the time. The atmosphere and colleagues also contribute of course. I want to feel I know my colleagues and that you can sit next to anyone at lunch. It is interesting if the company also has a global connection with the opportunity to travel.
However, making a difference for people is by far the most important thing for me because it gives me motivation and dedication. Then it also makes it easier for you to do tedious tasks if you think of a "higher purpose".


Joakim Jystrand
HR Specialist