Master Thesis at CellaVision, Emmy and Jesper
<p>In this interview we make acquaintances with Emmy and Jesper who just recently finished their Master Thesis here at CellaVision. After having done this they are now permanent members of CellaVision and joined the Applications team in August as Software Engineers. Read about what they have to say about writing their Master Thesis here at CellaVision and what they're doing now.</p>
Have you heard about CellaVision before doing your Master Thesis here?

EMMY: I had heard the name CellaVision before and seen them at the career fair Arkad, but I did not know much about the company and its products.

JESPER: The first time CellaVision crossed my path was when I started to research interesting companies where I could write my Master's thesis.
How did you end up doing your Master Thesis at CellaVision? Did you choose it or were you assigned?

EMMY: We found Kent's email address on an old Master's thesis proposal on CellaVision's website and contacted him. He invited us to a meeting at CellaVision where we discussed different possibilities with him and Adam. I think both Jesper and I felt right away that it was an exciting opportunity!

JESPER: During my last two terms at LTH I grew fond of machine learning and image analysis. It seemed natural to try to find myself a Master's thesis project within this area. CellaVision, which works with digital microscopy, specializes in both these areas and so was a perfect match! Emmy and I got in contact with CellaVision and eventually got a meeting with them. Together, we decided on a project which could be beneficial for both parties.

What was the subject of your Master Thesis?

EMMY & JESPER: We studied image transformations of blood cell images from two digital microscope systems with different optics. We obtained very good results with various deep learning techniques and our focus was variants of Generative Adversarial Networks (GANs).

Please describe the collaboration between you and your supervisor/mentor at CellaVision.
EMMY: We had two supervisors at CellaVision, Kent and Adam, and they were both great! We worked independently daily and then we had regular meetings with our supervisors every third week or so, but we could of course ask for advice and discuss ideas at any time. In addition to that there were a lot of other people at CellaVision who you could always ask for help.

JESPER: We had two mentors at CellaVision. They had regular meetings with us about every three weeks, but if we had more urgent business or a need to discuss something with them they always took time off their schedule to see us. They were not the only ones who helped us though. Many of the people who work here love innovation and want to be part of a creative process. Therefore, you could always grab someone in the hallway and discuss any problem of yours.
What was the best thing about doing your Master Thesis with CellaVision?

EMMY: If I can only say one thing it would be the overall company culture. There's a great, open atmosphere and people are genuinely kind and helpful!
JESPER: The perks of writing my thesis at CellaVision were many. Before we started the thesis the most important thing for me was that I would get the chance to work with a project that I was truly passionate about. CellaVision was a great help in this matter. They sat down with us, listened to us and together we decided on a suitable problem formulation. Once we started at the company the best thing was probably the people working here. I felt like part of the team from day one. I can't stress enough how thankful I am still being part of this environment today.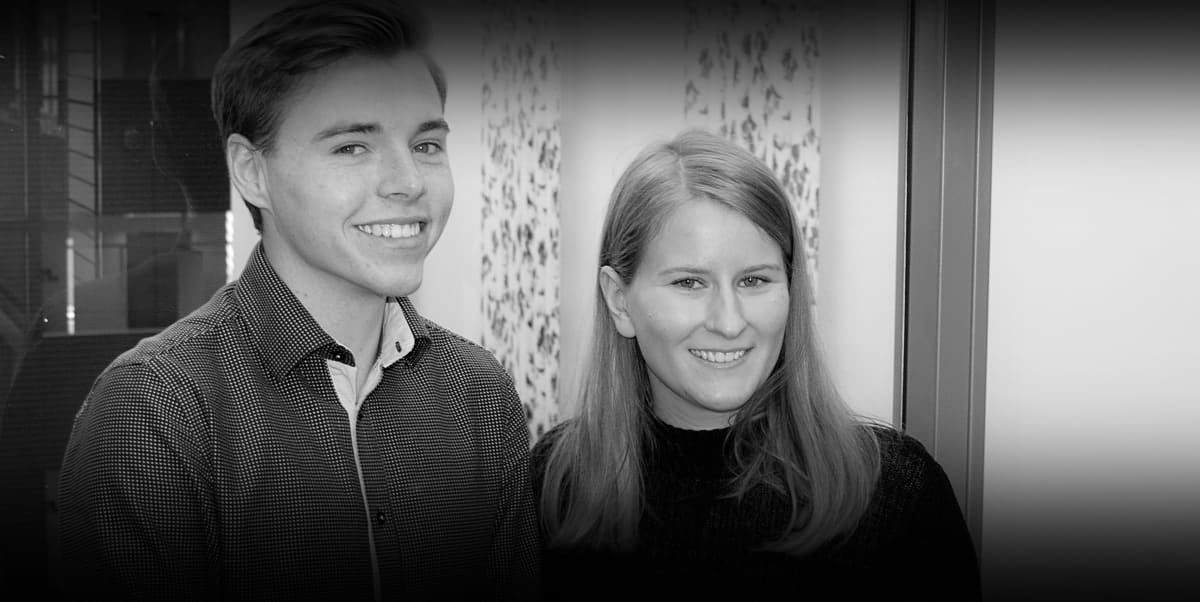 Now you are working at CellaVision since this summer. Was it something you planned all along?
EMMY: For me it wasn't something I'd planned, but when we started talking about it this spring I realized that it would be the perfect job for me. The biggest advantage was that I already knew that this is a place I like and that I'd get to work with interesting projects together with very smart and dedicated colleagues.
JESPER: No, not really. When we started working with the thesis I was very uncertain of what I wanted to do when I was done with my degree. I was just focused on writing a good thesis to make sure I had a lot to choose from when it was all over. Then this opportunity presented itself and CellaVision wanted to hire the both of us. At that point there was really no doubt in my mind what to do.

Could you recommend coming students to do their Master Thesis with CellaVision?

EMMY: Definitely! The Master's thesis work at CellaVision was one of the best parts of my time at university.

JESPER: Kind of a leading question, don't you think? Truth be told, I do think this is a very nice company. Anyone who is curious about how it is to work in the med-tech business and wants to be part of a growing, innovative company should definitely apply! They will be met by a bunch of positive, creative and talented coworkers.
If you want to hear more about writing your Master Thesis at CellaVision, just contact us.